USA congressman questions Facebook, why they blocked Chinese dissident's account. (更多…)
点击数:3110
Reporters Without Borders (RSF) calls on the international community to boycott the second World Internet Conference (WIC) being organized by China, the world's leading "Enemy of the Internet." Communist Party cyber-propagandist Lu Wei has just defended Internet censorship, saying it is needed to achieve a balance between freedom and order. 继续阅读 »
点击数:35
Reporters Without Borders (RSF) reiterated its call for journalist Gao Yu's immediate release after a Beijing people's high court today reduced her sentence on appeal from seven to five years in prison. Gao did none of the things she is alleged to have done. 继续阅读 »
点击数:95
September 4, 2014, Chinese citizen Wang Long sued China Unicom on the reason "can not login to the Google search engine". September 29, he was detained to the charges of "Crime of Provocation" in criminal detention.
November 4, Shenzhen Longgang District Procuratorate approved the arrest of Wang Lung, and he is currently being held in Shenzhen Longgang District Detention Center.
2014年9月4日,汪龙以无法登陆Google搜索引擎为由,对中国联通提起诉讼。9月29日,汪龙是被以"寻衅滋事"罪被刑事拘留的。11月4日,由深圳龙岗区检察院批准逮捕汪龙,他目前被关押在深圳龙岗区看守所。
点击数:20
Facebook deleted a posting about Tibetan self-immolation. Facebook fawns on the Communist Party in China–Facebook Censorship.
Tibetan writer Tsering Woeser posten a text with a video on Facebook, but it was deleted, and Facebook sent her one massage, says that her text violates the provisions of Facebook.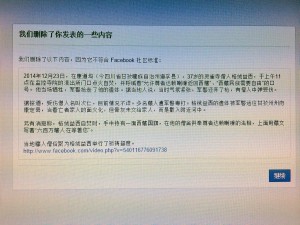 点击数:45