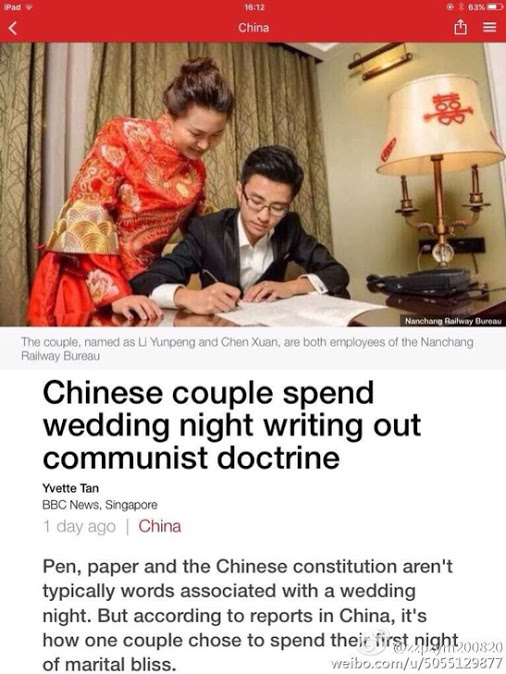 Pen, paper and the Chinese constitution aren't typically words associated with a wedding night. But according to reports in China, it's how one couple chose to spend their first night of marital bliss.
The newlyweds were left with "fond memories of their wedding night", after transcribing the 15,000-character Chinese Communist Party constitution by hand, according to an online post by the Nanchang Railway Bureau.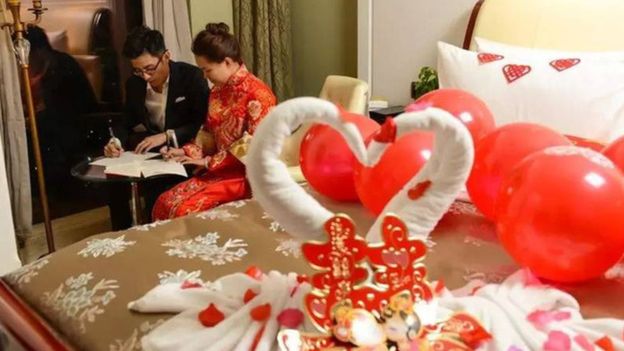 The symbol on the bed reads "Double Happiness", which is a common Chinese symbol of marriage
Li Yunpeng and Chen Xuan, both employees of the organisation, were pictured writing the document on a desk near a bed covered with red balloons and white folded swans. The bride is pictured in a traditional wedding dress, with red symbolising good luck in Chinese culture.
The image has since gone viral on social media, with netizens and online commentators alike weighing in.
It was all part of a national education campaign launched in March to "copy the constitution for 100 days", according to reports by the Global Times.
And according to The Paper, state-owned Nanchang Railway Bureau had been encouraging all their employees to participate in the campaign, writing a few pages every day.
The organisation said it would showcase outstanding examples, and that handwriting the constitution had now become "part of everyday life".
评:我觉得如果这两位当事人知道国外报道他们的事后,可能会非常自豪,觉得让全世界知道了他们共产党人是如何热爱自己的党的。他们根本不知道他们的行为是多么的变态。
Source: http://www.bbc.com/news/world-asia-china-36339438
点击数:24