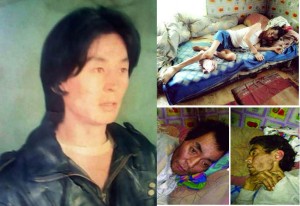 (TibetanReview.net, Mar23, 2014) – A 43-year-old Tibetan man jailed for 12 years in Gansu Province's capital Lanzhou for having allegedly led a protest against Chinese rule in 2008 has died less than five months after being medical paroled as a direct result of continuous, severe custodial torture, said Dharamala-based Tibetan Centre for Human Rights and Democracy Mar 21. The centre has posted on its website a skin-and-bone photo of Goshul Lobsang lying on bed.
After being accused of having led a Tibetan protest in Bhelban (Chinese: Awancang) Township of Machu (Maqu) County in Kanlho (Gannan) Prefecture, Gansu Province, in 2008, Goshul Lobsang went underground but was captured after a two-year manhunt on May 16, 2010. After months of continuous, severe torture by police in his home county, a court in the provincial capital Lanzhou gave him a 12-year jail sentence in Dec 2010.
The centre indicated that he continued to suffer ill-treatment even after he was sentenced, with the result that he was beyond any medical treatment by the time they released him on medical parole on Oct 27, 2013. He was reduced to skin-and-bone, unable to eat or drink, or even to utter a word by then. He died on Mar 19, 2014.
Bhelban-born Goshul Lobsang was reported to have briefly visited India in 1993 and studied at the Tibetan Transit School for refugees near Dharamsala in northern India. He is survived by his wife Tarey, 40, son Yeshi, 18 and daughter Dolma, 15.
Aufrufe: 20