Beijing (CNN) One of China's highest-ranking Buddhist monks has denied explosive allegations of sexual misconduct, which accusers claim left at least one victim suicidal.
In a 95-page document submitted to Chinese authorities in July, two male monks at Beijing's Longquan Temple accused Shi Xuecheng of sexually harassing and assaulting multiple female nuns.
It comes at a time when women in China are pushing back hard against widespread sexual abuse, in a manner similar to the #MeToo movement in Western countries.
Xuecheng, who is the abbot of Longquan Temple, is a high-profile figure who heads the Buddhist Association of China and serves as a national political adviser to the Communist government.
The 51-year-old, who has taken a vow of celibacy like most Buddhist monks, posted a brief statement Wednesday night, denying all allegations to his more than a million followers on his verified account on Weibo, China's equivalent of Twitter.
The statement, issued in the name of his temple, alleged the "organized and vicious" whistleblowers had "forged materials, distorted facts and spread false accusations" to mislead the public. It said the temple would ask the government to conduct an official investigation to "put the record straight."
The State Administration for Religious Affairs said in a statement Thursday that the agency "attaches high importance" to the claims against Xuecheng and "has started investigation and verification work."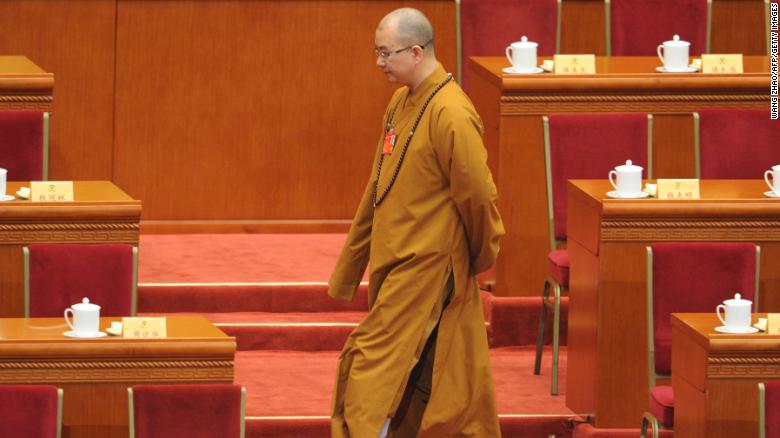 Report censored on social media
The accusers' report contains numerous examples of explicit messages that Xuecheng allegedly sent to at least six nuns. In the messages, Xuecheng is alleged to have demanded total obedience from the nuns, including sexual favors, as part of their study of Buddhist doctrines.
It was leaked online Wednesday and widely circulated on Chinese social media before being censored.
The document has accounts from a number of the alleged victims, some of whom say they were so devastated by their experiences they became mentally unstable or even suicidal.
According to the document, one victim eventually filed a police report in Beijing in June, alleging the abbot had sexually assaulted her and several other nuns.
Shi Xianqi, one of the two monks behind the original document, which also includes allegations of corruption, told CNN on Thursday that he and co-author Shi Xianjia stand by their words and are cooperating with the authorities.
"We have submitted more evidence," he said. "We will now wait for the result of the government probe."
CNN's repeated calls to Longquan Temple and Xuecheng on Thursday went unanswered. Local media reported Thursday that road access to the mountain where the temple is located was abruptly closed after the allegations emerged, with a notice citing "mudslide danger following recent torrential rains."
'Evil in the Buddha's robe'
In a statement to CNN, Xianqi described how he began investigating Xuecheng earlier this year when a "fearful and nervous" nun told him about the explicit messages she had been receiving from the abbot.
After obtaining the messages through legal means, Xianqi said the whistleblowers consulted with police and technical experts, who ruled out the possibility of the abbot's account having been hacked.
"So many faithful Buddhist women wanted to join the temple and I always voted yes," he said in the statement. "Little did I know I was sending them to the tiger's mouth."
"The abbot's learned image has crumbled in my mind," he added. "All that's left is huge fear. He is evil in the Buddha's robe."
China boasts more than 240 million Buddhists despite the ruling Communist Party being officially atheist.
Xuecheng is one of the most high-profile religious leaders in the country, an author of numerous books and a globetrotter in promoting Chinese Buddhism.
The abbot is known to put a modern twist on the ancient religion, maintaining an active online presence and teaching Buddhist ideas through cartoons. In 2016, he attracted brief worldwide attention when his temple launched a humanoid
 "robot monk" 
designed to greet young visitors.
His temple is also seen an intellectual bastion with highly educated young monks. Both of the whistleblowers hold doctorate degrees in engineering from one of China's most prestigious universities.
China's #MeToo moment
The latest claims against Xuecheng, which surprisingly were published in the English edition of state-run tabloid Global Times, are also part of a number of sexual harassment allegations making waves in China in recent months.
It has drawn comparisons with the #MeToo movement in the West, which has exposed a number of serious allegations against high-profile media and political figures, as women push back against systemic sexual harassment and abuse.
Far from being wary of calling out men whose work is important, many Chinese women airing their accusations have highlighted the hypocrisy of their abusers, and the disparity between their public and private faces.
"They're famous, they're powerful and they make great contributions (to society). That's exactly what makes them think they have the power to sexually harass women," Xiong Jing, director of the Beijing-based Women's Media Monitor Network, told CNN last month.
Source: https://edition.cnn.com/2018/08/02/asia/china-buddhist-monk-scandal-intl/index.html?utm_source=twCNN&utm_term=image&utm_medium=social&utm_content=2018-08-02T11%3A40%3A08
点击数:31